I traveled to the 2016 Houston Arcade and Pinball Expo Nov. 11th & 12th.  This is one of the smaller shows, but definitely has a lot going on. A multi-day tournament, seminars, vendors and even some Stormtroopers walking around.   There were over 200 games there that were split about evenly between pins, vids and consoles.  They had all the latest Sterns, a MMR, and a hot, fresh, Dominoes from Spooky Pinball.  The arcades were all in very nice shape with multiples of popular titles like Robotron.  The setup was nice and never got too crowded and the tournament had its own room.  Overall, the hotel was nice, less expensive than most and had a pretty good bar/restaurant so you didn't need to leave the premises if you didn't want to.
Dominoes was the "WOZ" of the show and is a great looking game with the overall blue/red color scheme.  Although simple looking compared to say Ghostbusters, it's a pretty fun family friendly game with "some" leftover toys from AMH and some new shots, so it isn't just a re-theme.  I have no idea where the code is at overall, but it was fun to play and has some brutal outlanes.   Listed at $5299 retail it could be a solid seller for Spooky Pinball given the current market shenanigans.  The Spooky seminar was well attended.
I sat in on a couple of other seminars, Jim Schellberg had a nice presentation of pinball in the media and Gerry from Multimorphic ran down the history of the P3.  Multimorphic had 2 games at the show, Cannon Lagoon and Lexi Lightspeed neither of which I had played before.  I usually would pass them up at shows chalking it up to "virtual pinball", but stepped up and I have to say they both were A LOT more fun than I expected.  Cannon Lagoon is a simple game, but very addictive and Lexi has as much going on as any standard pinball machine.  I apologized to Gerry for passing up his games so many times and we had a nice conversation.  I hope they do well in the future.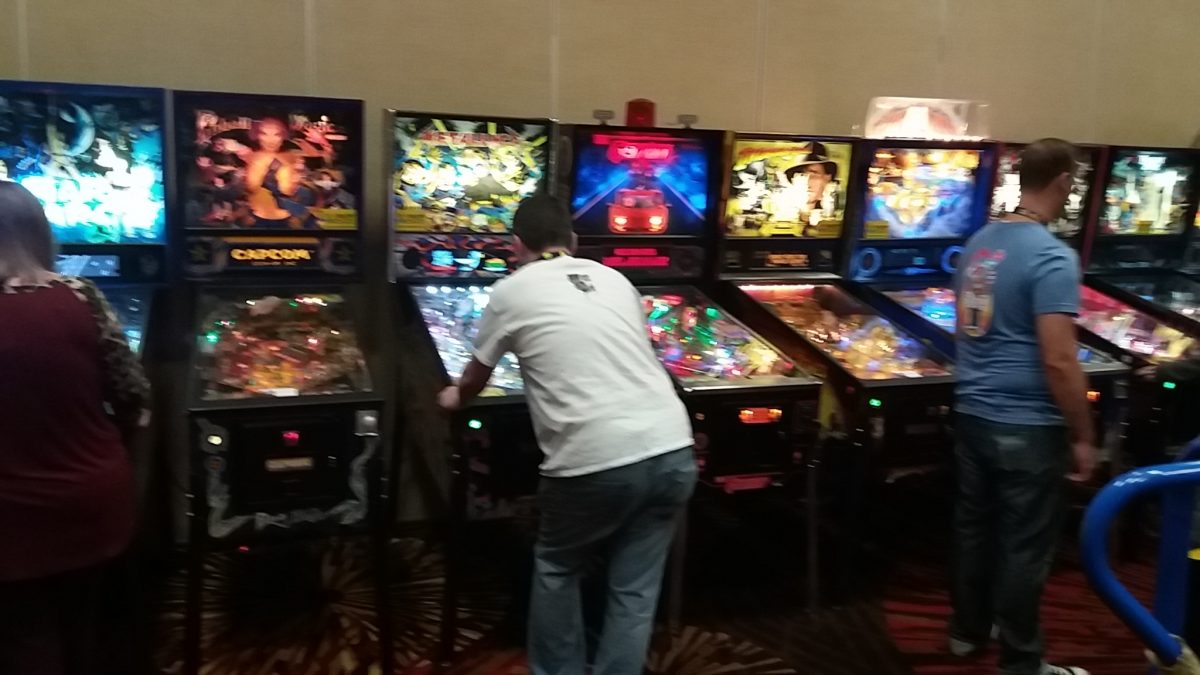 The CONS (or why I probably won't be back):  As stated over and over in the Houston Pinside thread by a lot of people, the music HAS to go.  Holy hell, nothing like trying to play pinball and have basically concert level sound blasting at you from all 4 corners of the room ALL THE TIME.  I just don't get it; to most of us the pinballs and the arcades ARE the music.  To make it even worse a lot of the pins were cranked to max volume, SO YOU COULD HEAR THEM.  Didn't make it better.  It was all very fatiguing.  I realize sound management can be an issue with show, but it CAN be managed.  Nobody seems to care at the Houston show.  Reminded me of a saying, a good DJ plays what the crowd wants, not what they want.  In this case, it's the organizers personal party and that's what he wants.
Power issues.  A lot of shows have them, and it takes a lot of money and a serious commitment to upgrade a venue to handle a pinball show.  Breakers were tripping all weekend and I just couldn't help but think that if there wasn't a 5000 watt sound system sucking up half the juice this might not have been as much of a problem.  I feel like this just points back to the selfishness of the organizer and what he wants instead of what would make the show better.  When you've got 800 million on ball 1 and the game/row just shuts off, well, it sucks.
Other things that were generally overlooked were things like leveling games.  I don't care if you have a Kingpin, next to a Big Bang Bar, next to a Batman Super LE.  If the games aren't somewhat leveled, the play is ruined.  A lot of games had major league curve balls going straight over to the outlanes from the middle of the PF and it's frustrating.  A couple of awesome Pinsiders brought several games each and I sent them PM's a couple of time during the show about issues.  I was given the go ahead to mess with the leveling myself but is that really the answer?  Volunteers make the show happen, but the organizer should have designated somebody to take care of things like this.
There was a great team of Pinmedics around that did their best to fix games ASAP when they went down.
All in all, it was a decent show, but mostly a locals party.  It's a casual show, but maybe just a little bit too casual.  I understand the venue might change next year, hopefully for the better.  I met some cool Pinsiders in person like Nicovolta and I did manage to play a lot of great games, spend some money on crap and get Zombie Yeti's signature on a nice piece of his artwork.  Sadly, there was no Maverick there.
Counting down the day until TPF!